Denmark debates defences against asylum seekers
Comments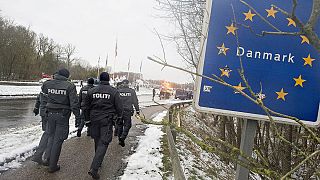 Refugees applying for asylum in Denmark may soon need to be well aware of the value of any assets they are carrying. Copenhagen's parliament has begun debating immigration law proposals which include confiscating their valuables to help pay for their. Copenhagen has announced it will extend temporary border controls at the German border by 20 days—as a deterrence measure.
The controversial proposal would empower the authorities to take any refugees' valuables worth more than around 1,300 euros. The centre-right minority government depends on support from the anti-immigrant and eurosceptic Danish People's Party.
Integration Minister Inger Støjberg responded to criticism by saying that wedding rings and other items of sentimental value would not be confiscated. The new law is supported by a majority of the parties in parliament, and could be approved by the end of this month.
If passed, some refugee families may expect to wait for as long as three years to be reunited, temporary residence permits will be shortened and permanent residency for foreigners be made harder to get.
New top UN refugee official Filippo Grandi last week criticised the Danish government.
The High Commissioner for Refugees said: "Europe, traditionally, has been a continent that has told other countries what to do in terms of asylum, has asked countries outside Europe to take refugees. Now if Europe starts setting limits, pushing back, erecting barriers, being hostile, the rest of the world will follow, I can tell you."
According to some estimates, at least 20% of Danish voters support anti-immigration policies; others are embarrassed by them.
'Welcome to Denmark' activist Lina Soergaard said: "If you look at a country like Sweden, they have taken so many more refugees, and the same with Germany, and here we are in the middle, and we are not really participating."
Around 20,000 people sought asylum in Denmark last year, around 160,000 in Sweden and around one million in Germany.
Cameroonian engineering student Marius Youbi already knows how strictly Denmark can apply its rules. A few days ago, he was deported because he worked for an hour and a half longer than the 15 hours per week that foreign students are allowed.