British lawmakers debate a ban on Donald Trump entering the country
Comments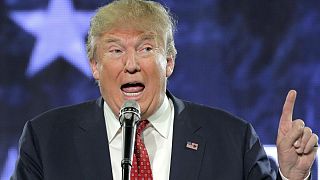 A petition to bar Donald Trump from entering Britain was the object of debate at Britain's Houses of Parliament.
More than 500,000 citizens put their name to the petition and topics are considered for parliamentary discussion if they reach 100,000.
Last month, Trump provoked controversy with his comments that Muslims should be banned from entering the United States, after 14 people died in a shooting spree in California by two Muslims, whom the FBI said had been radicalised.
The debate will not be followed by a vote.
"There is no reason why we shouldn't admire America and admire her history and admire her contribution to democracy over many centuries, but also object to particular individuals," said MP Paul Flynn.
"But I don't want to assist Donald Trump in any way and I think that is the view of nearly all MPs, and we could perversely by banning him, increase his standing amongst his supporters in America."
Only the Home Secretary Theresa May can issue an order banning entry into Britain and Prime Minister David Cameron has said that while Trump's comments were divisive, he does not favour barring him.
Trump has threatened to cancel over 700 million pounds ($1 billion) of planned investments in golf courses in Scotland if he is banned.