Donald Trump unveils first TV ad in US presidential campaign
Comments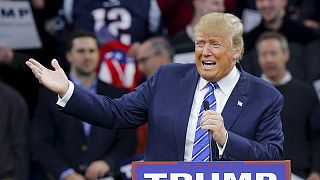 Donald Trump's first major TV advertisement is as provocative as his narrative.
Photos of the San Bernadino attackers are used to back his controversial pledge to ban all Muslims from entering the US.
The Republican frontrunner's promises to combat the so-called Islamic State with language echoing the terror group's violence: he vows to "cut the head off of ISIS".
Pictures illustrating his warning over Mexican immigration are actually from Morocco – his campaign team says that was intentional, to illustrate what the US would eventually be like if borders are not secured.
Until now Donald Trump has not made TV advertising a priority.
His estimate on campaign spending ahead of early voting in Iowa and New Hampshire – about $2 million (1.85 million euros) a week – is said to be in line with that of other candidates.
Trump's new ad has been described variously by American newspapers and commentators as 'riveting' and 'xenophobic', while the New Yorker called it 'ugly'.
According to the New Civil Rights Movement, Trump's campaign team 'forgot' to post the ad to Facebook and YouTube.
His tactics have been questioned, with at least one analyst asking whether the TV commercial will succeed in attracting new voters as well as appealing to his existing supporters.