Bowie's seven star constellation a cosmic tribute to the spaceboy
Comments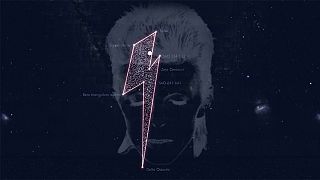 ''I could play the wild mutation as a rock & roll star'' slithered Ziggy Stardust back in 1973.
David Bowie's constellation points in the direction of Mars, of course: https://t.co/4L67XX23lipic.twitter.com/MEGZEjELoH

— Vulture (@vulture) 17 Janvier 2016
Now, following the death of David Bowie, Belgian astronomers have announced the registration of a seven star constellation shimmering in the shape of a lightening bolt.
Starman David Bowie is given his own lightning bolt constellation https://t.co/4FCDSo5KKspic.twitter.com/zm4nZwsiAY

— The Telegraph (@Telegraph) January 18, 2016
The red/blue lightening bolt dates back to the cover of David Bowie's sixth album 'Aladdin Sane' which flashes across the face of the cosmic rocker.
#DavidBowie 'Aladdin Sane' proof shot pic.twitter.com/pifK6W2hdF

— Leticia García (@Ms_Golightly) January 17, 2016
Bowie came up with the idea of the flash, while the teardrop was added by the photographer Brian Duffy.
"Blackstar" at Number 1. Nineteen albums in Top 100. 19 million streams in a week. therichwalters</a>. <a href="https://twitter.com/hashtag/DavidBowie?src=hash">#DavidBowie</a>. <a href="https://t.co/gncAvPlI5t">pic.twitter.com/gncAvPlI5t</a></p>&mdash; Radio X (RadioX) January 18, 2016
In an interview with Rolling Stone, Bowie explained how the idea came about: "The lightening bolt is an electric kind of thing. Instead of, like, the flame of a lamp, I thought he would probably be cracked by lightening. Sort of an obvious-type thing, as he was sort of an electric boy. But the teardrop was Brian Duffy's, an English artist-photographer. He put that on afterward, just popped it in there. I thought it was rather sweet."
Tonight, skate to tunes by #DavidBowie at a BryantParkNYC</a> tribute to the late musical icon. <a href="https://t.co/sVlEIm7oo7">https://t.co/sVlEIm7oo7</a> <a href="https://t.co/QomNA5cMRI">pic.twitter.com/QomNA5cMRI</a></p>&mdash; NYC Parks (NYCParks) January 15, 2016
The astronomers teamed up with Belgian radio station Studio Brussel to give Bowie a "unique place in the galaxy."
The stars which make up the constellation are Sigma Librae, Spica, Alpha Virginis, Zeta Centauri, SAA 204 132, and the Beta Sigma Octantis Trianguli Australis.
The constellation was recorded at the exact time of his death.
In a further tribute the lightening bolt constellation is in the vicinity of Mars.
The 'Aladdin Sane' constellation is part of the Stardust tribute project. Bowie fans can interact with the constellation via Google Sky. Simply click on any space within the zigzag to create a star, each of the stars contains a personal message to Bowie, as well as a favourite song.
#DavidBowie gets his own constellation! https://t.co/HGsigIgO4lpic.twitter.com/uDV9fjMZic

— Record Theatre (@Record_Theatre) January 16, 2016
The constellation can be viewed online by other users and the more stars that are formed the brighter glows the flash.
So from now on any melancholic Spaceboy or girl can simply look up to heavens at anytime to share a thought with the Thin White Duke remember that Bowie will be 'Watching the cruisers below.'
A new constellation shines in the night #DavidBowieRIPpic.twitter.com/RzhCayhxc2

— RampicantiStorti (@RampicantiSto) January 11, 2016
In a more bizzare twist following Bowie's death Italian fans are calling on God or who it may concern to bring Halloween Jack back from the dead.
Come on now! 'turn and face the strain.'