Taiwan reacts to Tsai Ing-wen's landslide election victory
Comments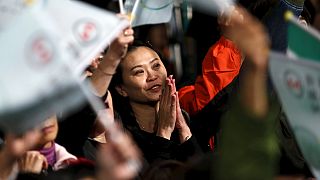 The news of a political shift in Taiwan following Saturday's election (January 16) has provoked mixed reactions in the capital.
New president Tsai Ing-wen has refused to advocate the idea that her nation and China form one country, which will eventually be unified.
Beijing made the notion of "one China" its criterion for negotiations with the outgoing government which have resulted in a series of trade, exchanges and transport agreements.
Taiwanese citizen Tao Jian-hua was worried about the implications of an official declaration of independence.
"In the next four years, we can imagine that the issue of cross-strait relations cannot be resolved. The domestic economy will continue to deteriorate, there will be no breakthrough in diplomatic difficulties. These are all problems that we are very concerned about," he said.
Taipei resident Chou said he wanted to see changes and a prosperous future for Taiwan.
"We look forward to seeing reforms. I don't think the president being male or female makes a difference. What matters most is that the new leader takes care of people and leads us to prosperity," he said.