Death toll from islamist militant attack on hotel rises
Comments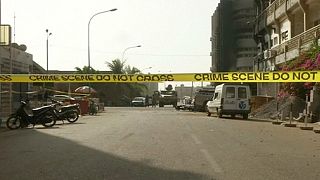 The death toll from Friday night's attack by islamist militants on a hotel in Burkina Faso has risen to twenty-nine.
Thirty people were also injured when the gunmen stormed the Hotel Splendid and a nearby restaurant in the capital Ouagadougou.
The casualties are from 18 different countries and among the dead are two Swiss and two French people. Other victims included people from China, Russia and the United States.
It took the security forces several hours to re-take the hotel.
"We are not outside this terrorist situation and as a result it's important not only to share information with neighbouring countries but also to share military capability so we can fight firmly against this threat," Burkina Faso President Roch Marc Christian Kaboré told reporters.
One survivor of the attack at the Cappuccino restaurant said that diners first mistook the shots and explosions for firecrackers before two gunmen burst in dressed in black and brandishing assault rifles.
At least 20 dead in siege by suspected Islamists at Burkina Faso hotel https://t.co/wLMq8jpD1ipic.twitter.com/w6oiHtN3Li

— Reuters Top News (@Reuters) January 16, 2016
A security source told news agencies that at least four of the attackers were killed, including two women.
The group calling itself Al Qaeda in the Islamic Maghreb said its members carried out the attack.
France has promised to send forensic police to help investigate the attack and a French court has opened up a murder inquiry.