Burkina Faso siege: witnesses describe moment gunmen entered
Comments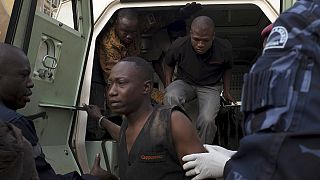 Witnesses to the Ouagadougou attack say suspected Islamist militants shot indiscriminately at them and did not speak French – the national language of Burkina Faso.
Mariette Kineou was in the targeted Cappuccino café. She described the scene:
"They started shooting and everyone lay down on the ground. You would get shot as soon as you lifted your head, so you had to play dead. They even touched our feet to see who was alive. If you were alive, you were shot instantly. My little sister was hit by a bullet in the knee, but it went straight through. As for me, I didn't get shot."
Roger Inetiema was also in the café.
"They came in and we were all lying on the ground. They started shooting at people. I was perhaps lucky that only my arm was wounded," he said.
He said four American friends of his "stayed behind" in the café. When asked what he meant by this he responded: "It means they are dead."