Security forces in Burkina Faso storm hotel to free hostages taken by suspected Islamic militants - reports of 20 dead
Comments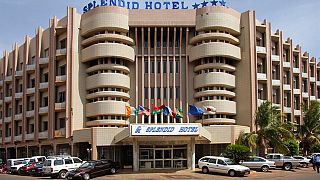 Security forces in the West African country of Burkina Faso have launched an assault on a hotel in the capital where a number of hostages were being held by suspected Islamist militants who attacked earlier.
There are reports of 20 dead and many more injured after the militants struck the Hotel Splendid in Ouagadougou.
UPDATE: Burkina Faso launches assault on Islamists at capital's hotel; building 'on fire' https://t.co/RreMkPC6yXpic.twitter.com/K8DoWNH7rh

— RT (@RT_com) January 16, 2016
At around about 4am GMT thirty hostages had been freed according to a government minister, who also said 33 people were being treated in hospital.
The initial attack started at around 730am local time on Friday evening when witnesses say at least three gunmen started firing in the air outside the hotel.
They also said the loud explosions were the result of two car bombs.
The Hotel Splendid is located at just outside the business district and near to the airport. It is well used by Westerners and NGO workers and well as Burkino's officials.
The gunmen stormed the hotel and shots could be heard coming from inside the building.
The security forces arrived a short time later and engaged in what witnesses described as an intense exchange of gunfire with the attackers.
Many of the wounded civilians were taken to hospital where they told staff that they had seen at least 20 people lying dead at the scene.
There's been no official confirmation of that figure however the interior minister said ten bodies had been found in a restaurant near the hotel that was also attacked by the militants.
The security forces secured the perimeter of the hotel and then appear to have become involved in a stand-off with the attackers who had taken hostages inside the building.
The group Al Qaeda in the Islamic Maghreb said its members had carried out the attack, making the claim before the incident was even over.
The authorities declared a curfew and the security forces waited for the order to assault the hotel.
At around 1am GMT a fire was seen in the lobby of the hotel and a short time later the assault started.