Photographer Leila Alaoui latest victim of Hotel Splendid attack
Comments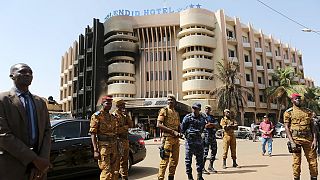 The death has been announced of Franco-Moroccan photographer Leila Alaoui, who succumbed to the wounds she received in the Hotel Splendid attack in Ouagadougou.
It brings the death toll in the assault in the Burkina-Faso capital to at least 32. Al-Qaeda has also published the names of the militants it says carried out the attack. They all died, and on Tuesday Benin's president joined his counterpart in a visit to the scene of the atrocity.
One person who survived was Clement Djiguende, who was on a normal workshift in the Cappuccino cafe when bullets began to fly.
"We stayed behind the bar and the attackers returned to kill the wounded. As soon as they finished shooting, they set the building on fire. I got out through the bar. I crawled, I crawled. I even had to get over a dead body to reach the door," he said.
Clement knows he was extremely lucky, but Alaoui's death while on assignment for Amnesty International has shocked the artistic and international aid communities.