Briton Tim Peake's historic ISS spacewalk is cut short
Comments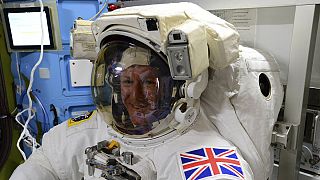 Tim Peake has become the first astronaut representing Britain to walk in space.
The crew is not in any danger whatsoever
But the ex-army major's trip outside the International Space Station on Friday was cut short after his NASA crewmate, American Tim Kopra, reported a possible leak in his helmet.
"The crew is not in any danger whatsoever," mission commentator Rob Navias said in a live broadcast of the spacewalk on NASA TV.
Ending the spacewalk two hours early was a precaution, Navias added.
Luckily, the intrepid pair had already completed their main task – replacing a failed voltage regulator in the station's power system – when Kopra reported a water bubble had formed in his helmet.
As a precaution, #spacewalk terminated due to small amount of water in @Astro_Tim's helmet. https://t.co/KX5g7zfYQehttps://t.co/6sRiiiLFPo

— NASA (@NASA) 15 Janvier 2016
The duo were scheduled to spend more than six hours outside the station, a $100 billion research laboratory that flies about 400 km above Earth, on other maintenance chores.
That work will be rescheduled, Navias said.
Today's #spacewalk has ended early. The crew was never in any danger. Listen to the NASA TV commentator for details. https://t.co/TomSPQvunr

— NASA (@NASA) 15 Janvier 2016
Peake, 43, blasted off to the ISS as part of a six-month mission for the European Space Agency in December, becoming the first Briton in space since Helen Sharman travelled on a Soviet spacecraft for eight days in 1991, and the first to do so under a British flag.
His mission has attracted widespread attention in the UK, with the spacewalk beamed live on news channels.
Tinkering with the Station's Flux Capacitor today…alright – it's really a Combustion Facility but nearly as cool pic.twitter.com/5DVO4OfcCl

— Tim Peake (@astro_timpeake) 31 Décembre 2015