French Alps avalanche: teacher led class onto closed, black-rated ski track
Comments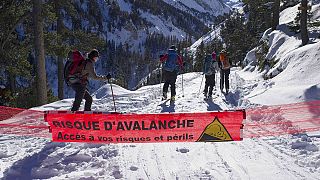 After three people, including two teenagers, died in an avalanche in the French Alps on Wednesday (Jan. 13), authorities have launched an investigation into why a teacher led his class onto a track that was closed to skiers.
The sky was blue, the kind that makes you want to go skiing
The children killed at Les Deux Alpes resort were aged 14 and 16. A Ukrainian adult skier who was not with the school also died.
The teacher, who took the class from the southeastern city of Lyon, was among those injured and was being questioned by the police on Thursday (Jan. 14).
The avalanche occurred on a black-rated slope that had been closed to skiiers for safety reasons after several days of heavy snowfall.
French Alps avalanche teacher 'faces manslaughter probe' https://t.co/DI4gLoFl2a

— The Independent (@Independent) January 14, 2016
Dreamy weather came with risks
To the untrained eye, the weather conditions the day of the avalanche looked quite dreamy.
"The sky was blue, the kind that makes you want to go skiing," ski guide Eric Arnol told euronews.
"If you take the sea, when it's dangerous it's raging, it's scary; in the mountains it's the opposite: when it's all white and the weather's nice, it seems safe, but in fact the risk is there," he said.
Asked if there should be stricter rules against off-piste skiing, the director of the Deux Alpes resort, Didier Bobillier, said: "It's a matter of individual freedom and responsibility; I'm not sure we can control everything. I sometimes draw a parallel with speed limits on highways: you'll always have people driving too fast."
The avalanche threat level was raised again on Thursday, to 4 out of 5 — 5 being the maximum.
It's been a tough season for French ski resorts. Over Christmas, many had barely enough snow to open their slopes. It finally came this week, up to half a meter in some areas, raising the risk of avalanches.