Car bomb attack leaves six dead in Turkey
Comments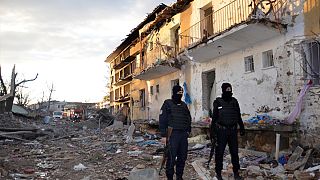 Six people were killed and some 39 injured when a car bomb exploded in front of a local police station in Cinar, in the Diyarbakir region of Turkey.
The detonation of the bomb was followed by a gun attack with rocket launchers, officials say.
Local media says the deaths, which included two police officers and a five-month-old child, occured when the dormitory, on the top floors of the building, collapsed.
No one has claimed responsibility but officials believe it was the work of the outlawed Kurdistan Workers' PKK party.
Another police station was attacked with rocket launchers in Midyat town, in the province of Mardin, in what appeared to be a simultaneous assault. There were no reported casualties.
Turkey has been on high alert since Tuesday's suicide bombing in Sultanahmet Square, Istanbul, which left 10 people dead, mostly German tourists. That attack has been blamed on ISIL militants.