Obama urges optimism and swipes at Trump in his final State of the Union
Comments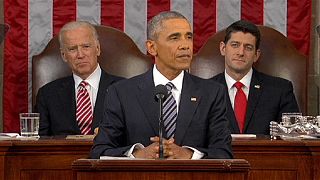 President Barack Obama called on Americans to take an optimistic attitude toward the country's future in his final State of the Union address.
Obama calls for making "college affordable for every American" at State of the Union https://t.co/Ik3RTBkiMtpic.twitter.com/Y9w3YxmXNO

— HuffPost Politics (@HuffPostPol) January 13, 2016
While at the same time he was highly critical of the current tone of the presidential nominee debate.
He took a swipe at Donald Trump, without mentioning his name,:
"When politicians insult Muslims, whether abroad, or fellow citizens, when a mosque is vandalized, or a kid is called names, that doesn`t make us safer."
Obama's final State of the Union Address most boring: Donald Trump pic.twitter.com/mGfEpHwUqv

—

TIMES

NOW

(@TimesNow) January 13, 2016
Obama then listed a number of issues that still need to be addressed:
Obama Praises Own Strength, Resilience In Face Of Hardship During State Of The Union https://t.co/CamDGE8iRApic.twitter.com/p2xVFIvw5r

— The Onion (@TheOnion) January 13, 2016
"I'll keep pushing for progress on the work that still needs doing. Fixing a broken immigration system. Protecting our kids from gun violence. Equal pay for equal work, paid leave, raising the minimum wage. All these things still matter to hardworking families."
As Obama defended his legacy the reality is with just one year left of his presidency there is little time to achieve anything substantial.
First Lady Michelle Obama sits next to an empty chair at #SOTU, meant as a symbol of those killed by gun violence pic.twitter.com/WwOmBpc86P

—

AFP

news agency (@AFP) January 13, 2016