US and South Korea in strategic talks after North's nuclear test
Comments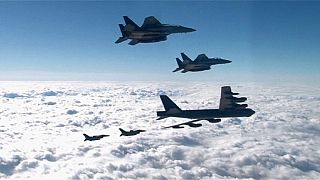 The United States and South Korea are discussing sending more strategic US assets to the Korean peninsula following the North's claimed hydrogen bomb test last week.
On Sunday a B52 bomber flanked by US and South Korean fighter jets flew over Osan Air Base in a show of strength.
The White House said the low level flight underscored a deep and enduring alliance with its ally South Korea.
"Deployment of American strategic assets is highly crucial. North Korea has conducted nuclear experiments, and nuclear experiments mean that the North will arm itself with nuclear weapons," said Kim Min-seok, South Korean Defence Ministry spokesman
North Korean TV has been showing photos of leader Kim Jong Un visiting the military personnel behind its nuclear test, although Western experts have cast doubt on whether the North has the technological capability to test an hydrogen bomb.
The test angered not just the US, but neighbouring China, North Korea's main ally in the region.