Lawyers for 'El Chapo' Guzman to resist his extradition to US
Comments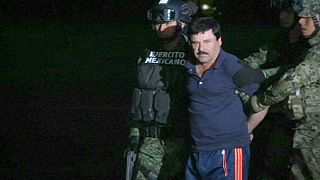 The lawyer for Mexican drug lord Joaquin Guzman said he will resist extradition to the United States for his client.
The kingpin known as El Chapo is wanted on charges including drugs trafficking and money laundering.
He could be sent to the US within a few months, but the timing may depend on injunctions filed by his legal team.
"We find ourselves in a constitutional context, between right and wrong, that's to say, as his defence counsel, I maintain that national sovereignty, the sovereignty of Mexican homeland institutions, must be respected for the carrying out of justice."
Security forces recaptured the fugitive cartel leader six months after a daring escape from prison. He blew his cover through a series of slip ups, including an attempt to make a movie about his life.
Watch two minutes of El Chapo's exclusive first-ever interview, just before his recapture https://t.co/LczMoFOJlmpic.twitter.com/0T0NZAylnY

— Rolling Stone (@RollingStone) January 10, 2016