Steaming back. The Flying Scotsman returns
Comments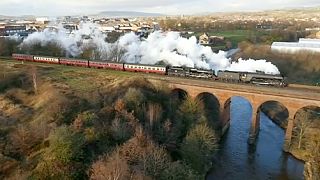 One of Britain's most iconic steam trains the Flying Scotsman has completed a successful test run after a six million euro refit.
It was the first steam locomotive to exceed 100 miles an hour.
Retired in 1963, it was eventually bought by the National Railway Museum in the English city of York.
#FlyingScotsman locomotive back on tracks and coming to the Midlands svrofficialsite</a> <a href="https://t.co/F3rULUNPas">https://t.co/F3rULUNPas</a> <a href="https://t.co/FVfo5EPxI6">pic.twitter.com/FVfo5EPxI6</a></p>&mdash; ITV News Central (ITVCentral) January 8, 2016
The engine is expected to make its first inaugural run between London Kings Cross and York in February following the ten-year restoration.
"That symbol of the steam age, which so many people know and love now working again. It makes it feel all worthwhile," said an emotional Bob Gwynne, Curator of Collections and Research at the National Railway Museum. "And we've got lots of work to do now to get it back out fully on the mainline and running. This is it's test runs. In February, we'll have it running again out on the main lines around the country."
The engine, built in 1923, is powered by coal shoveled into a furnace.
Another test runs is planned between the English cities of Manchester and Carlisle later this month.
Every boys dream, tending to the engines of the Flying Scotsman by RoddisNigel</a> <a href="https://t.co/hOFI0ScjLJ">pic.twitter.com/hOFI0ScjLJ</a></p>&mdash; Bette Lynch (BetteMLynch) January 8, 2016