Ullevalseter continues march towards second straight Africa Eco Race title
Comments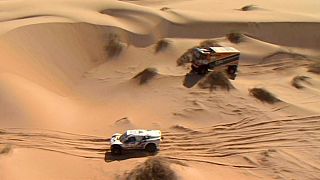 Pal Anders Ullevalseter continued to cruise towards a second straight Africa Eco Race title in the bikes category after the Norwegian KTM rider won stage 9 to Akjoujt in Mauritania.
It was his eighth victory this edition and he now holds a five hour 21 minute lead over his closest rival, Russian Dmitry Agoshkov who was seventh on the day.
Father and son team Jose SOUSA and Jose jr from Portugal took second and third respectively.
Jean Antoine Sabatier won the stage in the car category driving his Bugga One.
The reigning champion led a french clean sweep of the podium with Patrick Martin in second and Jean Pierre Strugo in third.
Kazakhstan's Kanat Shagirov was well off the pace in ninth and had his overall race lead cut to eight minutes and 37 seconds by second-placed Frenchman Pascal Thomasse who was fifth at the end of the dune-filled stage in his Optimus MD.
Portuguese driver Elisabete Jacinto steered her Man truck to stage honours in the heavyweight category.
Anton Shibalov was third but continues to dominate the overall standings head of fellow Russian Sergey Kuprianov, who was second on the day.