Truck bomb attack in Libya most deadly since fall of Gaddafi
Comments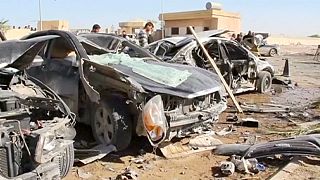 It is being described as the worst bomb attack in Libya since the fall of former leader Muammar Gaddafi.
At least 60 people have died in a blast at a police training school in the north of the country.
Most of those killed were young police recruits; dozens more have been seriously injured.
Reports say the attack happened as about 400 officers were holding a morning meeting.
There has been no immediate claim of responsibilty, but Islamist militants have been stepping up these kinds of attacks in recent months.
The bombing happened in the town of Zliten, and comes just two days after ISIL militants attacked a major oil facility in Sidra.
Firefighters are still trying to extinguish the flames.
Several oil tanks caught fire during clashes between ISIL fighters and forces allied to the internationally recognised government.
After the fall of Gaddafi in 2011 chaos has reigned in Libya, with rival governments and numerous armed groups battling for power.