Libya: Dozens killed in truck bomb attack at police training centre
Comments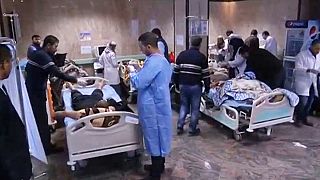 Dozens of people have been killed in a truck bomb attack on a police training centre in the Libyan town of Zliten.
There are conflicting reports about the number of casualties. A hospital source has put the death toll at 65, with many more injured.
The attack took place as hundreds of recruits were gathering for a graduation ceremony.
Witnesses said civilians were among the victims.
In turmoil since the overthrow of Colonel Gaddafi, Libya is split between rival political factions and armed groups. ISIL has used the chaos and security vacuum to expand its presence.
The UN Special Representative in Libya, Martin Kobler, took to Twitter to condemn what he described as a "suicide attack".
I condemn in the strongest terms today's deadly suicide attack in Zliten, call on all Libyans to urgently unite in fight against terrorism

— Martin Kobler (@KoblerSRSG) 7 Janvier 2016