'Paper with ISIL flag' found on knifeman shot dead at Paris police station
Comments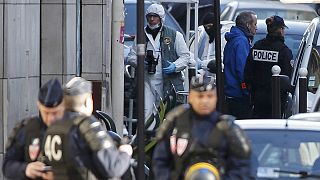 A man said to be carrying a knife and wearing a fake suicide belt has been shot dead as he tried to enter a police station in Paris.
Reportedly shouting 'Allahu Akbar!', meaning 'God is great', he was gunned down by officers in the northern 18th district, not far from Montmartre. Some reports said his weapon was a meat cleaver.
The Paris Prosecutor François Molins has said the man was carrying a mobile phone and a sheet of paper featuring the ISIL flag and a claim of responsibility, written in Arabic.
The events would be investigated as a terrorism incident, he added.
Man killed in Paris had 'piece of paper with ISIS flag and claim of responsibility'. https://t.co/pZKmYkhSo1pic.twitter.com/sgkQ027EPv

— Daily Mirror (@DailyMirror) 7 Janvier 2016
According to a police union official, the man ran towards two officers guarding the building. He was brandishing a kitchen knife and "shouting something which could have been Allahu Akbar", Yann Assioma of Alliance CGC told France Info radio.
The officers thought for a moment that he had a suicide vest as wires were seen protruding from his coat, the report said. His material was later revealed to have been fake after an examination by a police robot.
Speaking later from the scene, French Interior Minister Bernard Cazeneuve said investigators were working to determine the dead man's identity.
The police station where the attempted attack took place lies in the rue de la Goutte d'Or in the Barbès district, a working class and multiracial part of the French capital.
#Barbes "Un papier avec drapeau de Daesh et 1 revendication manuscrite non équivoque en langue arabe" (procureur) pic.twitter.com/6fSmKe3YAM

— Philippe Mathon (@pmathon) January 7, 2016
The attack happened one year to the day since the Charlie Hebdo killings in the French capital and at noon, around the same time that gunmen shot dead cartoonists and others at the satirical magazine's headquarters on January 7, 2015.
Following the latest incident, a major security operation swung into action amid initial reports the man may have had an accomplice still on the run.
Local schools were placed on lockdown and part of the metro system was disrupted.
France has been on edge since last January's massacres and the suicide bombings and shootings by Islamist extremists that left 130 people dead and hundreds injured in Paris in November last year.