Man shot dead after attacking Paris police station 'identified'
Comments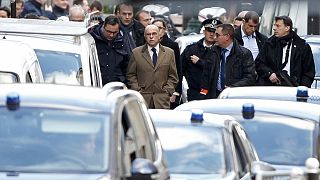 A man shot dead by police as he apparently tried to attack a police station in Paris has reportedly been identified.
French media reports say he was a 20-year-old Moroccan who was apparently unknown to the intelligence services but was known to the police over a theft committed in 2013.
Apparently shouting 'Allahu Akbar!', meaning 'God is great', he was gunned down by officers in the northern 18th district, not far from Montmartre.
He was reportedly wielding a meat cleaver and, it was feared, had a suicide vest – a police robot which examined his dead body revealed that to be fake, a wire attached with tape.
The Paris Prosecutor François Molins has said the man was carrying a mobile phone and a sheet of paper featuring the ISIL flag and a claim of responsibility, written in Arabic.
The events would be investigated as a terrorism incident, he added.
A year after Charlie Hebdo, the unity the French then found has gone.
"It's wrong that your colleagues killed someone who wasn't even armed, it's wrong", an unidentified woman shouted at the French Interior Minister Bernard Cazeneuve as he visited the scene.
The attack happened one year to the day since the Charlie Hebdo killings in the French capital and at noon, around the same time that gunmen shot dead cartoonists and others at the satirical magazine's headquarters on January 7, 2015.
Following the latest incident, a major security operation swung into action amid initial reports the man may have had an accomplice still on the run.
Local schools were placed on lockdown and part of the metro system was disrupted.
France has been on edge since last January's massacres and the suicide bombings and shootings by Islamist extremists that left 130 people dead and hundreds injured in Paris in November last year.