Madaya, a town on the brink of starvation, granted UN food aid by Assad
Comments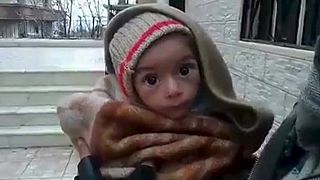 The Syrian government has agreed to allow emergency UN aid into three besieged towns – including the rebel held town of Madaya, close to Damascus – where it is reported people are staving to death.
Entry to Madaya and nearby Zabadani is strictly controlled by pro-Assad forces.
#Syria: Syrian children in the besieged and starving town of #Madaya enjoy a nice meal of leaves. Yes! leaves!! pic.twitter.com/vqIf1Y6JAn

— Thomas van Linge (@arabthomness) January 4, 2016
The rebel encircled towns of Foah and Kefreya are also due to receive assistance.
The last delivery humanitarian aid arrived in Madaya last October, but has since been a no-go area, despite numerous requests from the UN for access.
Assad spoke to his family in #Madaya two days ago https://t.co/VkCPAwe1jMpic.twitter.com/VPwfKnobBi

— World Have Your Say (@BBC_WHYS) January 7, 2016
Around 40,000 people are believed to be cut off.
Just got sent this video from a Dr who says he filmed this today in his clinic in the besieged town of #Madaya Syria pic.twitter.com/yxTvSS9A4E

— Sophie McNeill (@Sophiemcneill) January 6, 2016
As snow falls, the situation is becoming ever more desperate.
Reports suggest that those who try to leave the town in search of food run the gauntlet of snipers and landmines.
#Madaya
more than 40000 people under siege by #Hezbollah & Assad regime pic.twitter.com/CqR193KrCc

— ًWard Alyafe (@ward_alyafe) January 7, 2016
The UN says it will deliver aid in the coming days.