European shares fall sharply as China accelerates depreciation of the yuan
Comments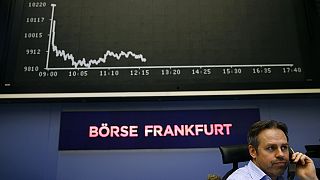 There was panic on global markets for a second time since the start of the year as China accelerated the depreciation of the yuan. European shares fell 3 percent and currencies around the region were left reeling.
Germany's Dax was worst affected down 3.5 percent, France's Cac dropped 2.7 percent.
By midday the FTSE 100 share index in London had recovered slightly and was 2.7 percent lower.
The Dax and the FTSEEurofirst were both at their lowest level since early October, with the Dax around 20 percent below a record high which it reached in April 2015.
China's stock markets were suspended for the day less than half an hour after they opened as the circuit-breaking mechanism was tripped for the second time this week. It was the shortest trading day on record in the world's second-biggest economy.