China stock trading suspended again as shares plunge
Comments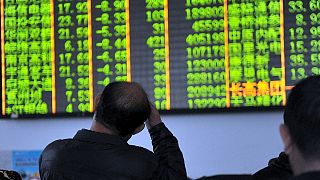 Trading on China's stock markets was suspended for the day on Thursday, for the second time this week,
as shares, again, nosedived more than 7 percent.
Things ground to a halt less than half an hour after the open when a new circuit breaker mechanism aimed at calming market volatility was automatically triggered by the plunging prices.
The broader impact was immediate as regional currencies went into a tailspin.
And Hong Kong's main stock indexes touched their lowest level since mid-2013, as panic from China's free-fall spread.
The tumble in China comes after the central bank accelerated the devaluation of the yuan currency, raising fears that the world's second largest economy is in deepening trouble – fears heightened by recent, disappointing manufacturing data.
China lets yuan fall faster, share trading suspended as prices tumble https://t.co/npZMk6dgs0pic.twitter.com/zZweJG9bat

— Reuters Top News (@Reuters) 7 Janvier 2016
A sustained depreciation in the yuan puts pressure on other Asian countries to devalue their currencies to stay competitive with China's massive export machine.
It also makes commodities denominated in US dollars more expensive for Chinese buyers, which could hurt.
The suspension of share trading in China for the second time sparked plenty of comment on Twitter.