Africanews launches vision of unbiased information, embracing diversity
Comments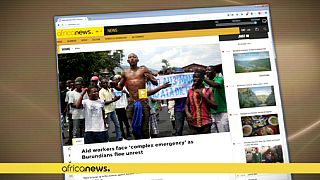 From the Republic of the Congo, rolling multi-platform news channel Africanews sets out to serve the continent's more than 50 countries in English and French, later adding more languages. The African and global news and business stories are told from an African perspective.
One of the French-speaking journalists, Nathalie Wakam, said: "Here in Pointe-Noire [the country's second-largest city] we have been working hard for several months already. My colleagues and I this morning identified and made a running order of the subjects our Africanews site has produced online. With our sources and correspondents, we cover [all of] Africa. The goal is not to gather more information on western or central Africa because of any linguistic proximity; we also cover the Maghreb in the north, and Africa south of the equator. One of our strengths at Africanews is we have journalists from practically all over the continent, isn't that right, Robert?"
Robert K'Odingo: "Well, I totally agree, Nathalie, and this is going to be an epic experience, waking up every day, coming to the newsroom and trying to inform people about the whole continent. I think we're going to steer people away from the African stereotypes and the cliches of how the African continent is. I think one of the greatest things that we are experiencing right now in this place is the different cultures, with our fellow journalists. This is going to be one of the best things ever for African media."
With a team of 85 professionals of more than a dozen nationalities, based in Congo-Brazzaville, Africanews will be launched globally on all media platforms available via africanews.com.
We talked to Mame Campbell Toure, the bureau chief in the new Pointe Noire premises.
Sophie Desjardin, euronews: "Mame, it's an important day for all of you. Tell us the reasons Africanews was created."
Mame Campbell Toure, Africanews bureau chief in Pointe Noire: "Sophie, I want to dedicate this special and historic day for Africa, 4th January 2016, to everyone who has dreamt of a pan-African media outlet that is not only impartial but multilingual—you dreamt it, we're doing it, for you; come with us. I also think that, to answer your question, Sophie, I'll paraphrase our president [Denis Sassou Nguesso, since since 1997],who said that Africanews was created to meet a demand for impartial information. We're going to try and do that. Africanews is also designed for the new Africa that is highly active, that is starting new things, that is building, one of success stories. We want to serve a pan-African audience but in the African languages that are used the most. Today, we are starting with English and French, and tomorrow with Swahili, Portuguese, Arabic, Lingala and other African languages."
euronews: "How will you differentiate yourselves from existing media? What's your trademark going to be, and how are you going to go about achieving the goals you describe?"
Toure: "As to the question 'how will our editorial objectives be met', especially where independence is concerned, I have to tell you that we as a broadcaster and all our platforms are dedicated to diversity, and we are convinced that diverse points of view, voices, opinions will allow us to achieve a clear credibility. We also have another considerable asset up our sleeve: what we call 'story hunters'. Story hunters is an app and an exclusive programme with the Africanews stamp on it which will permit everyone who follows us, either on audio, television or Internet, to participate in the construction of this credible information we're talking about. You should know also that we're not going to be chasing after a sensational scoop or scandal. That's not what we do, on the contrary. We'll produce information that has been verified and you can check it, well-paced and reliable. To sum up, Sophie, our credo is 'information.'"