Orthodox Christians begin Christmas celebrations
Comments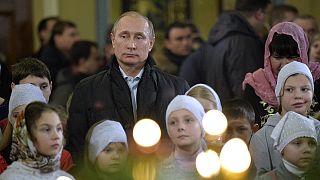 An estimated 350,000 Orthodox Christians have celebrated Christmas Eve in Moscow, with Patriarch Kirill overseeing the main event in the Russian capital's Christ the Savior Cathedral.
Some 200 km away in the village of Turginovo where his parents were baptised and his grandmother is buried, President Vladimir Putin attended a smaller scale mass.
While the Christmas message from Moscow had been to pray for peace in Ukraine., in the war torn country, believers were doing the same.
Enthusiasts in #Odesa re-enact nativity scene as part of #Orthodox#Christmashttps://t.co/Kz9giLYKSPpic.twitter.com/ynETf4A17B

—

UKRAINE

TODAY

(@uatodaytv) January 6, 2016
Most Orthodox Christians celebrate Christmas according to the Julian calendar on Jan. 7, two weeks after most western Christian churches that abide by the Gregorian calendar.
In Rome Pope Francis had offered his own Christmas greeting to the many countries where the festive celebrations are just beginning. He urged them to follow the example of the "Magi" or wise men who followed a light that brought them to Baby Jesus and to recognise the majesty of humility.
Merry Christmas Eve! 5 Things You Probably Didn't Know About Orthodox Christmas https://t.co/gs64W5H5PBpic.twitter.com/BpaMfLBdVf

— Classic 107 FM (@Classic107FM) January 6, 2016