Venezuela's National Assembly set to convene under opposition control
Comments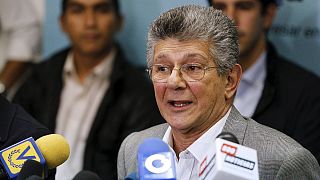 Venezuela's National Assembly convenes on Tuesday amid tension with the opposition set to take control for the first time in 16 years, after it trounced the ruling socialists in December's elections.
The opposition coalition won a large majority in the toughest challenge yet to President Maduro's authority.
With the country in deep recession, many Venezuelans are concerned about a shortage of basic supplies.
"The change that we – both the opposition and the (governing) party – want in Venezuela is unity and for the shelves to be stocked," said Caracas resident Estrella Delgado.
Government and opposition look set to clash over the president's new economic emergency plan and tactics.
Supporters of both sides are expected to demonstrate and all eyes are on the army's reaction.
"We're going to take our places peacefully… and the national armed forces will be the public authority to ensure security around the perimeter and peace and tranquillity, which is absolutely institutional," Henry Ramos, the man the opposition want to lead the assembly, told a news conference.
President Maduro has also called on the army to ensure events go ahead peacefully.
But he has moved to restrict the assembly's powers and bar three opposition lawmakers over alleged voting fraud.
The opposition has called for international support to resist what it calls a "judicial coup".