US justice department sues Volkswagen over emissions scandal
Comments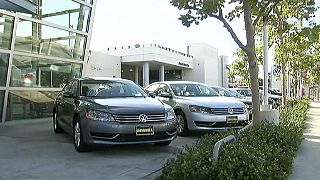 The US justice department is suing Volkswagen over the emissions scandal in which the German car manufacturer fitted illegal devices to its cars so they could cheat emissions tests.
The civil lawsuit centres on Volkswagen's alleged violation of the Clean Air Act.
The car giant could face fines exceeding $90 billion (83.1 bn euros) or $37,500 ( 34,600 euros) for each of its 600,000 vehicles involved.
The scandal has hit the company hard with it being forced to recall millions of cars worldwide.
To win the civil lawsuit, the US government does not need to prove the degree of intentional deception just that deception occurred.
The carmaker is also facing separate criminal charges, and a raft of class-action lawsuits filed by VW owners.
In September last year, following an investigation by US regulators, VW admitted fitting a so-called "defeat device" on 11 million vehicles globally.
The US Environmental Protection Agency (EPA) says that VW fitted many of its cars with a device that was able to recognise test conditions and adjust the engine settings accordingly, with the express purpose of giving distorted readings on nitrogen oxide emissions.
The details of the US lawsuit against VW that targets nearly 600,000 vehicles https://t.co/ncYlZKxdVnpic.twitter.com/ZxQunouMoP

— Financial Times (@FT) January 4, 2016