Obama sets out gun control measures in emotional address
Comments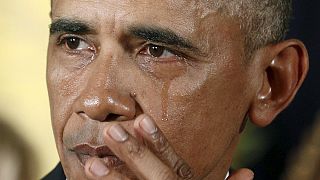 Barack Obama has delivered a heartfelt defence of his moves to strengthen gun control, to try to put a stop to repeated mass shootings in the United States.
Every time I think about those kids, it gets me mad
Surrounded by survivors and victims' relatives at the White House, he set out his plan to require more gun sellers to get licences and more gun buyers to undergo background checks.
Obama cried at times, notably recalling the 20 children shot dead at Sandy Hook Elementary School in Newtown, Connecticut in December 2012.
"Every time I think about those kids, it gets me mad," he said, tears rolling down his cheek.
"That changed me, that day," he said, after being introduced by Mark Barden, whose 7-year-old son was killed in the shooting.
"My hope earnestly has been that it would change the country."
"My 7-year-old son Daniel was among 20 1st graders and 6 brave educators who were shot to death" #StopGunViolencehttps://t.co/uEs6Ol0YY9

— The White House (@WhiteHouse) 5 Janvier 2016
Obama acknowledged that bringing change was a huge task.
"But a lot of things don't happen overnight," he said.
"A woman's right to vote didn't happen overnight. The liberation of African Americans didn't happen overnight. LGBT rights – that is decades worth of work. So just because it is hard, that is no excuse not to try."
Obama is taking executive action, having failed to persuade Congress to toughen gun laws.
But legal challenges are expected and Republican presidential contenders have pledged to reverse his order if they win the White House.
WATCH: @tedcruz on @POTUS' gun actions: "When you live by the pen, you die by the pen. And my pen's got an eraser." https://t.co/Hj4jXm0BEg

— ABC News Politics (@ABCPolitics) 5 Janvier 2016