US: gun control shaping up to be an election issue
Comments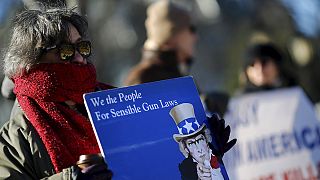 Obama announces executive action on gun control
Republicans and pro-gun campaigners vow to fight it
Legal challenges expected
Opponents of tighter gun rules in the US have condemned executive action announced by President Obama requiring more gun sellers to get licenses and more gun buyers to undergo background checks.
The move is expected to meet stiff opposition from Republicans and pro-gun campaigners.
Larry Pratt, Executive Director, Gun Owners of America #GOA Watch Live http://t.co/GxOvxsq8cZ#GRPCpic.twitter.com/Sn9fsMCYTX

— Politics and Guns (@politicsandguns) September 26, 2015
The head of the Virginia-based Gun Owners of America, Larry Pratt, says Obama has exceeded his authority.
"We think that the executive orders are an arrogation of power that the President doesn't have the ability to legislate constitutionally, which is really what these orders are. He is not clarifying a vagueness of the law, he is adding specifics where already the law provides specifics."
Legal challenges are expected
Republicans maintain gun control legislation has never been popular with US voters.
"The president and, by extension, the Democrats are making a big mistake but I wouldn't want to try to restrain them too much. Every time the Democrats get involved in pushing gun control politically, it has cost them an arm and a leg and if they want to go to the 2016 elections as the champion of gun control, "be my guest"."
The crucial question for any legal challenge will be whether the guidance creates new obligations or merely clarifies existing law.
Experts say the more the Obama administration acts as though the guidance has created new legislation, the more legal trouble it might invite.