More tit-for-tat in the Middle East following Shia cleric's execution
Comments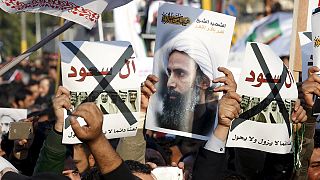 The regional row is deepening in the Middle East over the execution of a prominent Shia Muslim cleric.
The escalating feud was sparked by the reaction of predominantly Shia Iran to news of the death of Sheikh Nimr al-Nimr in Saudi Arabia.
Angry of execution of Sheikh #NimrAlNimr Iranian burned down #Saudi Embassy in Tehran pic.twitter.com/vM6TPieKym

— M.Reza Noroozpour (@noroozpour) January 2, 2016
Saudi Arabia's embassy in Tehran was set alight on Saturday in retaliation.
Saudi Arabia broke off diplomatic ties with Iran in response, followed on Monday by its allies Bahrain and Sudan.
The developments
Kuwait has recalled its ambassador to Iran on Tuesday.
Bahrain has also recalled its ambassador and is stopping all flights to and from Iran.
Saudi Arabian Prince Al Waleed Bin Talal says he is no longer considering any projects or investments in Iran.
I hereby condemn #SheikhNimr's execution & send my condolences to his family & Muslim world. This act violates human rights & Islamic values

— Hassan Rouhani (@HassanRouhani) January 3, 2016
Iranian President Hassan Rouhani said the execution violates "human rights and Islamic values"
Iran's Islamic Revolutionary Guard has stated "Without a doubt, the hated Saudi regime will pay a price for this shameful act."