The factors in play in the Iran-Saudi dispute
Comments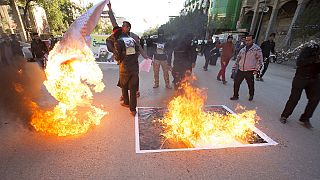 Aftermaths of Diplomatic crisis between Iran and Saudi Arabia
The breakdown of diplomatic relations between Iran and Saudi Arabia is not just bilateral – it is already expanding into a diplomatic crisis between Iran and the wider Arab world.
On one hand Saudi Arabia is encouraging its Arab allies to cut ties with Iran and the Kingdom of Bahrain and the Republic of Sudan have already done just that. The United Arab Emirates has reduced its diplomatic relations with Iran to the level of 'chargé d'affaires', ranked below the ambassadorial level.
At the same time there are two contrasting positions evident within Iran: Hassan Rouhani's government is trying to control the diplomatic tension and has publicly denounced the attack on the Saudi embassy; but hardliners have been trying to use the crisis to undermine Rouhani's flagship achievement – his completion of an international accord over Iran's nuclear programme.
Regional conflicts
Saudi Arabia and Iran are both heavily involved in the major conflicts in Syria and Yemen, with Iranian troops openly fighting on the side of Syrian president Bashar al-Assad. The Saudis' role in the Syrian conflict is more complicated although they have organized an Arab anti-terrorism coalition which anticipates a much reduced role for Assad in Syria's future. After this diplomatic crisis, any understanding and agreement between the Saudi-led coalition and the coalition led by Russia and including Iran and Iraq seems likely to become much more complicated.
In Yemen, the roles are reversed, with the Saudis openly backing president Abd Rabbuh Mansur Hadi, while Iran is officially supporting, vocally at least, the opposing Houthi forces.
Religion
The latest incidents follow the execution of prominent Shia cleric Sheikh Nimr al-Nimr by Saudi Arabia. That prompted violent protests in Tehran as Shia demonstrators attacked the Saudi embassy. Regional alliances sometimes appear to be formed on religious lines but the reality can be much more complex. However the hostility between Sunnis and Shiites has clearly become inflamed as a result of the execution.
Oil
The plummeting oil price has hit both the Saudi and Iranian economies hard. The Iranian foreign ministry has accused Saudi Arabia of instigating the current crisis to distract attention from problems at home. Although oil prices initially rose 3% to over $38 per barrel immediately after the Saudi embassy attack, many economists believe continued high production of crude will drag prices back down. The latest diplomatic spat between Iran and Saudi Arabia, with its $80 billion deficit, makes it less likely the two countries will be able to cooperate within OPEC to increase and stabilise oil prices.
Domestic politics
Key elections are due in Iran and hardliners could hope to profit politically from a spike in tensions. Some analysts close to Rouhani's government say the attack on the Saudi embassy was a conspiracy to undermine the government's political success and thus its performance in next month's double elections for the parliament and Assembly of Experts.
At the same time the government in Riyadh has found its authority increasingly strengthened among the Sunni majority at home as a result of the attacks on its embassy in Tehran. And criticism of the 47 executions it carried out on January 2, including that of Sheikh Nimr al-Nimr, has been overshadowed both at home and abroad.
Wider international relations
The Nuclear accord had been a potential game-changer in the region, with Iran no longer an automatic pariah in the West. This in turn has led to Saudi Arabia trying to forge new alliances, such as its anti-terror coalition.
The US has no plans to intervene in the crisis and an official of Barack Obama's administration said: "We believe that diplomatic engagement and direct conversations remain essential in working through differences and we will continue to urge leaders across the region to take affirmative steps to calm tensions."
But Russia appears more willing to get involved; it has announced that is ready to mediate between Iran and Saudi Arabia. However this offer is unlikely to become a reality for the Saudis, given Russia's policy in support of the Syrian government.