Protests continue in Shia-led villages across Bahrain
Comments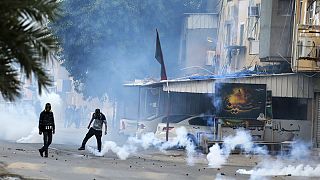 Clashes in majority Shia villages
* Police use tear gas to disperse crowds*
* Bahrain politcally volatile since 2011*
Anti-government protests and clashes with riot police continued in various villages with a Shi'ite majority in Bahrain.
Bahrainis march in Sitra for democracy and #humanrights
#Bahrainpic.twitter.com/CZrvaqcFtJ

— AlwefaqEN (@AlWefaqEN) January 1, 2016
Dozens of protesters came out on the streets wearing gas masks and carrying pro-Shi'ite flags.
Tear gas and buckshot to put down pro-democracy marches in Sitra earlier today
#Bahrain#NewYearsDaypic.twitter.com/uFErpfbvKX

— AlwefaqEN (@AlWefaqEN) January 1, 2016
Some were seen carrying molotov cocktails and rocks.
Tear-gas rounds fall near protester in #Sitra#Bahrain 5 JAN 2016 during 4th day of protests and… https://t.co/MGp14jghsn

— Mazen Mahdi (@MazenMahdi) January 5, 2016
Riot police fired tear gas to disperse them.
*Is this just about the executed Shia cleric Nimr al-Nimr?
Why #Bahrain ranked 31 in 2015 Global Terrorism Index scoring 4.9 compared to 85 in 2011 with only 0.6

#hrw#US#UKpic.twitter.com/SPix95nNtJ

— محمد الرفاعي (@Mohammed_Riffai) December 10, 2015
The clashes over the last few days are a direct response to Saudi Arabia's mass execution on Saturday.
However, there was an uprising in 2011 by the Shi'ite community in Bahrain.
They demanded reform and a greater role in running the Sunni-led country.
It was crushed by the state with help from Gulf Arab allies, including Saudi Arabia.
Bahrain has been politically volatile since that time.