Africa Eco Race: British KTM rider Newland wins stage seven
Comments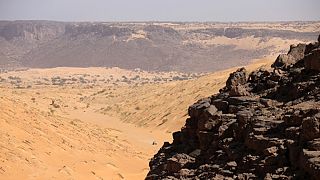 Britain's Andrew Newland became only the second rider to win a stage in this year's edition of the Africa Eco Race.
The KTM rider won a rocky stage seven to end Pal Anders Ullevalseter's perfect start to the rally.
Newland completed the 413 km challenge from Chami to Amodjar in Mauritania ahead of Frenchman Norbert Dubois who enjoyed back to back second place finishes.
Norway's Ullevalseter took third but remains the run away overall race leader over two and a half hours ahead of Russia's Anastasiya Nifontova.
Kazakhstan's Kanat Shagirov maintained his title ambitions by winning the stage in the car category to stretch his overall race lead.
It was the Toyota driver's second win in the eighth edition of the race.
Second behind Shagirov was Jeremie Choiseau of France who reached a stage podium for the first time in his Optimus MD.
Rounding out stage seven's top three was Russian OSC driver Anton Grigorov.
And finally Grigorov's compatriot and defending trucks champion Anton Shibalov steered his Kamaz to victory in the heavyweight category to extend his overall lead.