Iran hits out at Saudi Arabia as row over cleric's execution escalates
Comments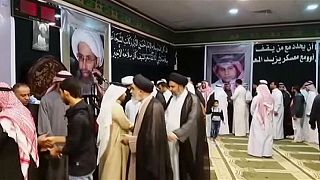 Iran has again lashed out at Saudi Arabia after the kingdom severed diplomatic relations amid violent protests following its execution of a prominent Shi'ite cleric.
Shi'ite Tehran is furious at its Sunni rival's decision to put Sheikh Nimr al-Nimr to death, along with 46 other people, for terrorism. The mass executions were carried out on Saturday.
Iranian protesters reacted by storming the Saudi embassy in Tehran, lighting fires and smashing furniture before being cleared out by the police.
As a consequence, Saudi Arabia has severed diplomatic relations with its regional rival.
Reacting to that move, an Iranian foreign ministry spokesman accused Saudi authorities of using the attack as a pretext to fuel regional tensions.
For Saudi Arabia, however, it is Iran that is threatening stability.
Saudi Foreign Minister Adel Al-Jubeir spoke out as the nearby Gulf kingdom of Bahrain also severed diplomatic ties with Tehran.
#UPDATE Bahrain follows Saudi in cutting ties with Iran https://t.co/R4TFs8Gs15pic.twitter.com/Z8AUDwGLPG

— Agence France-Presse (@AFP) 4 Janvier 2016
"We are determined not to let Iran mobilise or create or establish terrorist cells in our country or in the countries of our allies," he said.
As Saudi diplomats recalled from Iran headed home, Russia reportedly offered to mediate in a crisis that is threatening the renewed peace process for Syria where Tehran and Riyadh support opposing sides.