Iranians protest against Saudi execution of Shi'ite cleric al-Nimr
Comments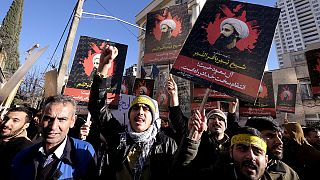 Hundreds of Shi'ite Muslims protested in Tehran on Sunday against Saudi Arabia's execution of prominent Shi'ite cleric Nimr al-Nimr.
Demonstrators chanted "death to Al-Saud" royal family as well as the US and Israel that they say support the kingdom.
Iran's supreme leader Ayatollah Ali Khamanei condemned Saudi Arabia for the second day on Sunday. He said the cleric's blood "will catch up with them without any doubt."
The two regional rivals were already at odds with each other over an ongoing conflict in Yemen where Saudi-led fighters are battling against the Iran-backed Houthi rebel movement.
Al-Nimr was an outspoken and long-standing critic of what he described as the Saudi government's discriminatory policies against the Shi-ite minority.
He was executed on Saturday along with three other Shi'ites and dozens of Sunni jihadists.