Saudi Arabia: top Shia cleric among 47 executed
Comments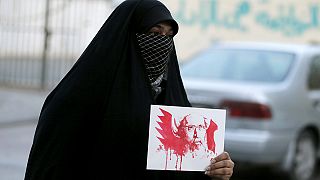 Biggest mass execution in Saudi Arabia since 1980
Anger spreads from Middle East to India
Cleric's family call for peaceful protests
News of the execution of Sheik Nimr al-Nimr has triggered protests throughout the international Shia community.
The timing is very sensitive
Saudi Arabia
Security reinforcements were drafted in to the Shi neighbourhood of Qatif in Riyadh.
Video shows march tonight in Qatif against Sheikh Nimr execution. It is finished now, the streets are quiet again. pic.twitter.com/CrRUW0DO8O

— Rori Donaghy (@roridonaghy) January 2, 2016
Bahrain
Police in Bahrain fired tear gas at dozens of protestors.
Tear gas fired in Bahrain at people protesting the Saudi execution of cleric Nimr al-Nimr https://t.co/hkzDzuPHlDpic.twitter.com/jfqBl1A3pD

—

ITV

News (@itvnews) January 2, 2016
#Bahrain breaks up protests over
#Saudi execution of cleric
https://t.co/eWHOhCYMb3
#Nimr#Manamapic.twitter.com/4pGcCC14ce

— Gulf-Times (@GulfTimes_QATAR) January 2, 2016
Women in Bahrain protest after Saudi executed prominent Saudi Shia cleric Sheikh Nimr al-Nimr (pic: Ahmed Alfardam) pic.twitter.com/uIB6NnEYQH

— Nabeela Zahir (@NabeelaZahir) January 2, 2016
The protests continue in different villages in #bahrain against the execution of Sheikh Nimr pic.twitter.com/DTqljZSmcD

— Hussain Radhi (@Huss3inRadhi) January 2, 2016
Demonstrators carried pictures of the leading cleric who was one of 47 executed by Riyadh as part of Saudi Arabia's biggest mass execution since 1980.
There was a stand-off with security forces in the Shi'ite Muslim village of Abu-Saiba, west of the capital, Manama.
Iran tweets
Iran's Ayatollah Ali Khamenei has posted a tribute to al-Nimr on social media.
الصحوة لا تقمع.
١٦/٥/٢٠١٥
#الشيخ_النمر_شهيداً
#الشيخ_نمر_النمرpic.twitter.com/UVyQLUsuK2

— الإمام الخامنئي (@Khamenei_ar) January 2, 2016
The English-language tweet carried the words "Awakening is not suppressible" alongside a picture of the 50-year-old.
Iraq
Karim al-Nuri: we will enter #Anbar and will stop the spread of terrorist "#Daesh " https://t.co/FVHjeCgyqr
#PMUpic.twitter.com/SEtVApOM9G

— Alghadeer English (@alghadeertv_eng) April 25, 2015
Karim al-Nuri is a spokesperson for Iraqi militia group Hashad Shaabi.
"The timing is very sensitive. We had hoped to bring the region back from the brink of sectarian tension but the blood of the martyr Nimr al-Nimr, was a message to provoke Iran and Shi'ites in the Ihsaa, Qatif, Bahrain and the whole region."
India and Pakistan
#Massive protests in Balhama Srinagar over the execution of top shia cleric Sheikh Baqir Nimr by Saudi Govt
much… https://t.co/SqgZzsO0dc

— Siraj Reki Baloch (@ExpressNews_2) January 2, 2016
Hundreds of Shi'ite Muslims marched in protest through the streets of Srinagar in Indian-administered Kashmir.
Protests in Kashmir, Bahrain and Pakistan over killing of Sheikh Nimr al-Nimr… https://t.co/8lSN5vYTme#Kashmir

— Kashmir View (@KashmirView) January 2, 2016
There have also been protests in Karachi in Pakistan.