Saudi Arabia's execution of Shi'ite cleric unleashes anger at home and beyond
Comments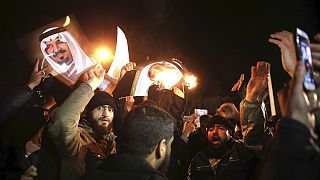 Saudi Arabia's execution of prominent Shi'ite cleric Nimr al-Nimr has unleashed anger at home and beyond.
Dozens took to the streets of Al-Qatif in the east of the Kingdom.
Al-Nimr – who rallied protests against Saudi Arabia's Sunni-led government – was executed along with three other Shi'ites and dozens of al-Qaeda members.
In Bahrain, people marched in support of the cleric.Police fired tear gas at several dozen protesters during one demonstration.
Anger also flared in Srinagar, in Indian-administered Kashmir, where hundreds of Shi'ite Muslims took to the streets.
On Twitter, Iran's top leader Ayatollah Ali Khamanei added his voice to the chorus of condemnation.
(photo: Isna)
Awakening is not suppressible. 16/5/2015
#SheikhNimr, #NimrAlNimr, #NimrMartyredpic.twitter.com/bVTz61FTDN

— Khamenei.ir (@khamenei_ir) January 2, 2016
The protests also spread to Europe. In London, demonstrators chanted outside the Saudi embassy.
Saudi Arabia's Tehran embassy was stormed by protesters. Those who got inside reportedly started fires before being cleared by police.
Video shows protesters inside Saudi embassy in Tehran pic.twitter.com/DEmsNLI6ZG

— Sobhan Hassanvand (@Hassanvand) January 2, 2016
Most of the 47 killed in the Kingdom's biggest mass execution for decades were Sunnis convicted of al Qaeda attacks in Saudi Arabia a decade ago.
The four Shi'ites, including al-Nimr, were accused of shooting policemen.
The executions took place in 12 cities in Saudi Arabia – some were killed by firing squads, the others were beheaded.
In December, al-Qaeda in the Arabian Peninsula threatened to retaliate against Saudi Arabia for any execution of its members.