West Bank crowds mourn 14 killed in recent violence
Comments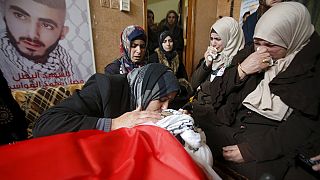 Thousands of Palestinians in the West Bank city of Hebron mourned the death of 14 people who were killed in recent attacks and clashes.
The bodies were returned by Israel on Friday (January 2), in some cases several weeks after being killed.
A surge in violence has been fueled in part by increased Jewish presence in areas also revered by Palestinians and frustration over the collapse of peace talks, as well as Israel's occupation of the land they seek for an independent state, and the expansion of Israeli settlements on that land.
Some 170 Palestinians and 26 Israelis were killed during 2015 in attacks in the occupied territories and Israel, according to data from the United Nations Office for the Coordination of Humanitarian Affairs. Most since October's surge in violence.
Last week Palestinian families and friends gathered in Jerusalem to demand Israel return the bodies of their loved ones killed in clashes.
Israel's defence minister said in
November that Israel is refusing to return the bodies of Palestinians unless their funerals are kept "modest."
Israel Defence Forces hurled stun grenades to disperse last week's protest.