New Delhi moves to tackle choking pollution
Comments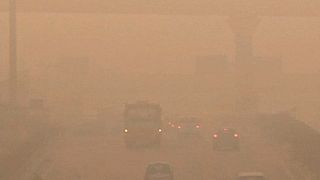 In what has been dubbed the world's most polluted city, the message seems to be enough is enough.
Moves to tackle toxic smog in New Delhi include cracking down on diesel cars and from January 1, banning the use of private cars on alternate days – according to their registration numbers.
Odd-even to help reveal most polluted areas in the Capital, reports @mallicajoshihttps://t.co/eYGW6bJoeWpic.twitter.com/4EIsUmx4D0

— Hindustan Times (@htTweets) 26 Décembre 2015
Reaching out to students, those in charge of India's capital are explaining the benefits of measures critics claim are too little too late.
"This will only be successful once it becomes a very big movement, when people want to act from their hearts,"
Chief Minister of Delhi, Arvind Kejriwal told youngsters in the city.
"We don't have to do this because I say so or because it is being forced upon us by the government. We must do this because we feel it's important for our lives and our health."
Some young people seem to be getting the message, taking to two wheels to help clean up the streets and combat a nationwide problem.
The World Health Organization said last year that 13 of the world's 20 most polluted cities were in India, with New Delhi being the worst. India rejected the report's findings.