Security measures heightened as Europe's cities prepare to hold New Year's Eve celebrations
Comments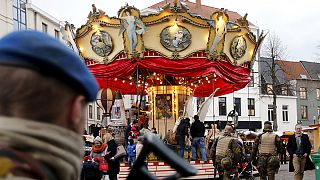 "Operation Sentinel" is in evidence on one of the most beautiful avenues in the world, the Champs Elysees in Paris. Security is tight ahead of celebrations to welcome in the New Year in the City of LIght.
Last year the annual party attracted 600,000. This year amid security concerns there were discussions about canceling it, but it will go ahead.
"We still think about the attacks, but you have to ignore all that and just live your life. Our life. We'll be there on December 31," explained one Parisian.
A five minute feature of animations will replace the annual firework display. The light show drew gasps from those who watched the rehearsal for the New Year's Eve party. Evidence of heightened surveillance is all around the area.
Security has been stepped up too in Berlin at the Brandenburg Gate. Hundreds of thousands of revelers are expected.
The party area has been cordoned off, where 900 police officers and 600 security stewards will be on hand – more than ever before. New measures have been introduced.
"We have a lot more security personnel. We have video surveillance. We prohibit the bringing of suitcases and backpacks to the event site. There will be stricter controls at the entrances. People can expect to wait at the entrance areas significantly longer, because we expect a few hundred thousand people tomorrow night," explained Willy Kausch one of the organisers of the event.
The fear of a terror attack at New Year's Eve celebrations was brought into sharp focus after Tuesday's arrests in Belgium.
The federal prosecutor's office announced that two people suspected of planning attacks at a number of popular sites had been taken into preemptive custody.