Brussels calls off traditional New Years Eve festivities over terror alert fears
Comments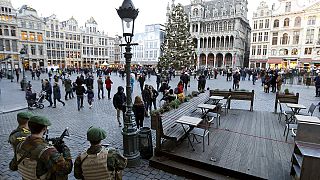 The traditional New Year's Eve fireworks and festivities in Brussels have been called off over fears of a militant attack.
The decision was taken conjunction with the Belgium government reportedly due to information it had received.
"It is the nature of a gathering of so many people, an enormous number. You know last year a 100,000 were here and you cannot control and check everyone who comes to the event. And as the inquiries are still ongoing on a local and federal level and elements of those inquiries still being analysed it was decided it was better not to take the risk," Brussels Mayor Yvan Mayeur told reporters.
The fear of a terror attack at New Year's Eve celebrations was brought into sharp focus after arrests in Belgium on Tuesday.
It's understood the two people arrested will appear in court on Thursday and belong to a motorbike club called the Kamikaze Riders whose members are mostly of North African descent according to one media outlet.