China-North Korea trade zone fails to get off the ground
Comments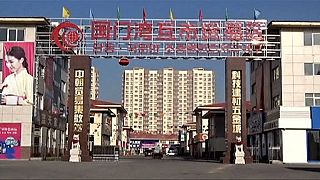 It is supposed to be a key economic gateway to reclusive North Korea.
But two months after its opening, business activity in a trade zone of the Chinese border city of Dandong is flat.
Shops lie empty and customers are in seriously short supply.
Why? The duty-free zone manager is vague.
"Nothing has been decided yet. The space could be rented out…" the manager told reporters.
Dandong is a stopover for North Korean traders and officials travelling between North Korea and northeast China.
It is also a magnet for foreign reporters seeking information on one of the most isolated countries in the world.
This slow start to the new development there is not altogether a surprise.
Previous attempts to set up free trade zones, part of Chinese efforts to coax North Korea into economic reforms, have mostly foundered due to lack of investor interest and fears over doing business with a country under UN sanctions.
China though continues to improve infrastructure on its side of the border.
The opening of a new bridge however is said to have been delayed over North Korea's failure to build connecting roads.
North Korea's isolated and small economy has few links with the outside world apart from China, which has been a key partner for decades.
But ties have been strained by North Korea's banned nuclear programme, which has triggered the
UN sanctions on the North.
As relations between China and North Korea have become strained in recent years, China has grown closer to South Korea, Asia's fourth-largest economy and the North's main rival.