Warm Alpine weather brings fires and flowers
Comments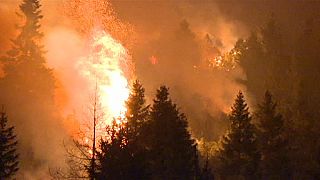 Wildfires sweeping through a forest in the Venetian Alps have destroyed some 100 hectares of woodland.
Firefighters struggled to contain the blaze in Italy's Central Plateau of Asiago after unusually warm weather led to dry soil and an absence of snow, even at an altitude of 2,000 metres.
Helicopters and planes eventually doused the flames from above.
The affected area is known for its natural beauty, with larch, spruce and mugo pines.
North of Asiago, the South Tyrolean city of Bolzano hasn't seen rain or snow for 65 days.
Spring flowers are already blooming in the Alpine region, despite the dry conditions.
Magnolia, forsythia and jasmine are already in flower – a rare sight so early in the season.