Record pollution forces Milan to take cars off roads
Comments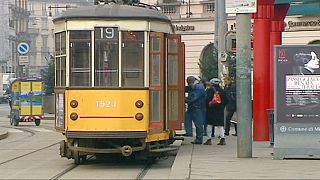 Pollution in Italy's industrial powerhouse Milan has got so bad the mayor is taking action, along with his counterpart in Rome and some other smaller cities.
Until Thursday all private cars are banned from the roads in Milan, while in Rome an alternating system is in force.
In some places air quality levels have been in the red for the last 50 days. Now people have had enough.
"Unfortunately, Italy's major cities have become real gas chambers. These are the results coming from air pollution control units. Milan has exceeded the allowed number of days where it can go past the limits, which according to Italian law is 35 days per year, three times. Rome also went way over the limit. But we are seeing that this is not only a problem for the cities of the northern Padana Plain or for Rome," said Stefano Ciafani from the environmental watchdog 'Legambiente'.
Abnormally stable air masses and unseasonably mild weather have not helped the buildup of pollutants, and while some local authorities have invested in cleaner public transport, many have not.