Divisions over who should lead Catalonia in parliament
Comments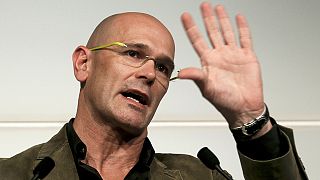 Catalonia's anti-capitalist party, the CUP – which is part of a pro-independence coalition – has failed to reach a final decision on its partner's presidential candidate.
It potentially forces the region into a new election.
The CUP and "Junts pel Si," or "Together Yes," won a majority of seats in a regional ballot, but divisions between the two have undermined their drive for secession.
Over 3,000 CUP members met on Sunday to take a final decision on "Junts pel Si's" candidate and acting Catalan President Artur Mas.
If the CUP assembly had voted to veto Mas as head of the new government, it would have forced Catalonia back to the polls for the fourth time since 2010.
But the divided vote – in which 1,515 CUP members voted for Mas and the same number voted against him – pushes the final decision closer to the deadline of 9 January.