Cameron promises more funds for flood defence
Comments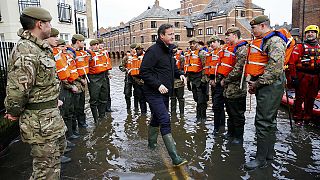 British army helicopters are being used to drop emergency supplies to the flood-hit city of York, after a month's worth of rain fell on northern England in the course of just a few days.
Hundreds of people have been evacuated from the area and some 3,000 properties are at risk from the rising water.
During a visit to soldiers coordinating the relief operation, British Prime Minister David Cameron promised to review spending for flood defence:
"Well, in York there are two sets of flood defences – the flood defences on the Ouse, which have worked, and then the flood defences on the Foss, which weren't able to work," he told reporters, "and that's why there's been the flooding that there has been. But you know, we spent a lot of money on flood defences, we're going to spend even more in the future, and they have protected many thousands of houses from floods. But they don't always do enough."
Leeds and Manchester have also seen severe flooding after weeks of rainfall.
There have been no fatalities or serious injuries reported but thousands of people are without power and several hundred flood warnings remain in effect.