China officially ends one-child policy from January 1
Comments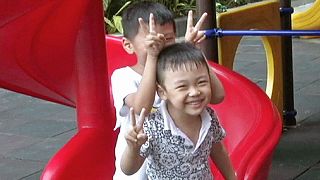 China officially says goodbye to its one-child policy.
The country signed a bill on Sunday allowing all married couples to have a second child from January 1. The legislation maintains limits on additional children.
The one-child policy was adopted in the late 1970s to prevent overpopulation but led to a huge gender imbalance, as well as a diminishing pool of young workers supporting an ever-larger number of elderly people.
China officially ends controversial one-child policy with effect from January 1 https://t.co/8SHoGdpmjkpic.twitter.com/cxfa6YtyV4

— dna (@dna) December 27, 2015
Domestic violence outlawed
China has also passed the country's first law against domestic violence.
Violence in the family had previously been largely ignored to avoid bringing shame on the family in traditional Chinese culture.
The new law also covers cohabitation, to include those who are not related but live together.
Gay couples not protected by new law
A senior lawmaker said the new law does not protect gay couples.
Guo Linmao, a member of the Legislative Affairs Commission of parliament's standing committee, said the law had been formulated in response to specific problems discovered.
"There are a lot of examples of domestic violence between family members, and also between people who cohabit," Guo said at a news conference.
"As for homosexuals in our country, we have not yet discovered this form of violence, so to give you a certain answer, it can be said that people who cohabit does not include homosexuals."
While homosexuality is not illegal in China, and large cities have thriving gay scenes, there are no legal protections for same-sex couples and the country is not likely to legalise same-sex marriage anytime soon.
#China: LGBT rights activists in #Macau demand domestic violence bill includes gay couples http://t.co/Yp41ukuRbVHumanDignityT</a> <a href="https://twitter.com/ILGAWORLD">ILGAWORLD

— Peter Tatchell (@PeterTatchell) November 8, 2014