Battle for Ramadi: has ISIL just lost its biggest prize of 2015?
Comments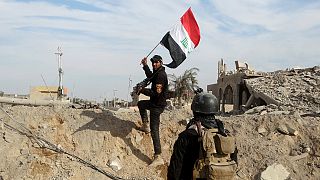 If true, it will deprive the so-called Islamic State of their biggest prize of 2015. The Iraqi army claims that it has re-captured Ramadi, west of Baghdad.
It would be the first major triumph for the US-trained force since it collapsed in the face of an assault by ISIL 18 months ago.
After encircling Ramadi for weeks, the Iraqi military launched a campaign to retake it last week and made a final push on Sunday.
When the militants took the city, the capital of the mainly Sunni-Muslim Anbar province, Washington had to take a hard look at its strategy for waging war against ISIL.
One US defence official said confirmation had not come through that the militants had now been cleared out of the government complex in Ramadi.
There was no word on any deaths from the army assault. But the government says most civilians were able to evacuate before it launched the final stage.