Turkish PM cancels meeting with 'violent' pro-Kurdish HDP
Comments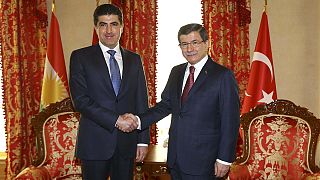 Turkey's prime minister Ahmed Davutoglu has cancelled a meeting with the pro-Kurdish Peoples' Democratic Party (HDP), which had been planned for next week (December 30) saying its politics were rooted in violence.
Turkey is pursuing a security operation in the country's mainly Kurdish southeast targeting the Kurdistan Workers Party, or PKK, considered a terrorist organisation by Turkey, the US and the EU.
A two-year ceasefire between the PKK and Ankara fell apart in July, plunging the area back into a 30-year-old conflict that has killed more than 40,000 people.
In the Turkish town of Sirnak, security sources said fighting erupted between security forces and PKK fighters after a cultural centre was petrol bombed on Friday. Four students and two members of staff suffered burns and smoke inhalation.
Meanwhile in the German town of Dusseldorf, police say 15,000 people protested against what they say is the war against the Kurdish people in Turkey.
Protesters marched through the city centre which was deserted during Saturday's German public holiday.